Becoming an icon of international television, Dwayne Johnson, better known as "The Rock" started from cero. Like anyone, probably with fewer opportunities, but this was not an impediment to becoming the person we know today. He has a great fortune for his great achievements. The best of all is that he decided to share his fortune with those who need it.  His professional career as a boxer  appeared in small television shows, but who launched his film career was Saturday Night Live.
Some of his best movies are …
San Andreas
Raymond, who works in the Los Angeles Fire Department, divorces after the unfortunate death of one of his daughters on a summer trip. His wife moves in with his other daughter Blake, but the contact is never lost. Ray always taught Blake first aid in any situation. A very strong earthquake has broken out in San Andres, where Blake is with his mother's current husband. Ray does everything he can to rescue his ex-wife and daughter. When the ex-wife is saved, the journey begins to find Blake, who is accompanied by two brothers that she knew before the earthquake happened. They had saved her life after the mother's husband abandoned her as a coward in the  parking of the building where they were.
This film was produced by Beau Flynn, Tripp Vinson and Hiram Garcia and directed by Brad Peyton. Launched in May 2015. Undoubtedly, my favorite, I like the drama and the action that you can see, it feels like you're in the movie. Its  amazing to think that a father does the impossible to save his daughter and his ex wife in that terrible accident. I think the participation of La Roca is excellent, and the others artists do an excellent job. I recommend that this film because it is very beautiful the message that is transmitted, it is excellent to see in family, all the members would enjoy it.
Here is the trailer link to have a look:
The Rundown
Filled with debt, able to retire and open his own restaurant, a bounty hunter and frustrated chef (Dwayne Johnson) travels to El Dorado, an unknown town deep in the Amazon. Travis, the son of a millionaire from Los Angeles will take him back. This turns out to be a boy who goes in search of a strange object "the cat of the devil". Everything is complicated when they cross words with the head of a mine and the rebels of the area and who also wants the treasure whose location is only known by Travis.
Walkin Tall
We see Dwayne Johnson  this time as a sergeant in the armed forces of the United States, who has already retired and decide to make his life with his family. After his retirement, Chris (Dwayne Johnson) was injured in the knee . Receive an invitation from a friend very close, to the casino.  Check in full that your town is changed, in the casino drugs are consumed, there is time and prostitution is practiced. An the casino, Chris received a punishment and due to this I am very badly wounded. On the other hand, his nephew who used drugs stays in the hospital after having ingested a strong doc of speed that was given to him in the casino. Chris decides to do justice and wins … this meant a declaration of war by pairs of the agents of the casino.
A Spy and a Half
Robbie Wheirdicht was bullied at school while Calvin Joyner was rewarded for his achievements. Being ridiculed by pushing him naked before the eyes of everyone. Years later, Calvin married but he was bored with his routine life until Robbin returns as Bob Stone totally changed. He wraps Calvin with matters of a secret agency for which he works. These guys become great friends.
The Fate of the Furious
With Dom and Letty on honeymoon in Cuba, where the family of Toreto lives, Brian and Mia out of the game and the rest of the gang each with their lives, the team is installed in a seemingly normal life. But when a mysterious woman seduces Dom to return again to the world of crime, unable to refuse the opportunity, thus betraying everyone around him. From that moment on, everyone will face trials like they never had before. Our elite force will travel the globe to prevent an anarchist from unleashing chaos in the world … and of course, to bring back the man who made them a family back home.
Pain and Gain
A tactics manager, Daniel Lugo, had just been released after serving the arrest due to a fraud case. The owner of Sun Gym, John Mese employs Lugo to increase the membership number in the gym. Then, Lugo achieved that the number of sun gyms that joined the membership will triple in just 6 weeks. There he became friends with a coach named Adrian Doorbal. Lugo is tempted after seeing the income and lifestyle of Victor Kershaw, a new member of the gym. Lugo then decided to extort Kershaw and obtain property through the kidnapping and torture of Kershaw. That's when Lugo recruits Doorbal and Paul Doyle to help kidnap Kershaw.
Rampage
Davis Okoye is played by Dwayne Johnson, this is a primatologist who is teaching a group of young people of the subject. Davis has an albino primate friend named Josh, whom he saved a couple of years ago. On the other hand, a laboratory company has lost a substance that alters the animal species, making them agrarian, insensitive and uncontrolled, increasing their size and their capacities. Josh has been affected by this and is in a state of uncontrol and Davis and Dr. Kate try to stop Josh, a crocodile and a wolf that have also been affected, and thus avoid a global catastrophe.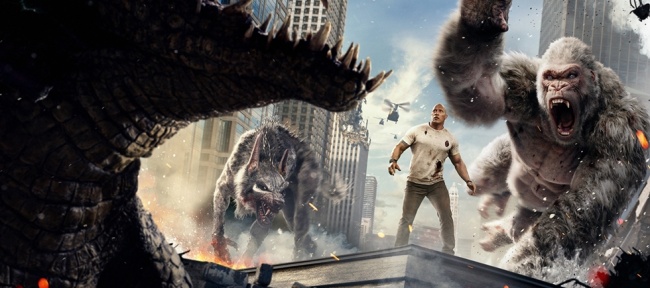 Jumanji: Welcome to the Jungle
Four teenagers who attend the institute are punished for bad behavior and they have to clean an old warehouse where an old videogame is located, they decide to play, but they dont imagine what was expected to happen … The boys are absorbed by the game submerging them in a world of fantasy, terror and mystery, they should do their best to win the game if they want to get out of there alive. They must recover a magic jewel, the advantage is that each one has different abilities granted by the video game. There they meet new characters that will help them and lead to the end of the game.
The Game Plan
Joe Kingman is a football player, with an incredible life that everyone would want, a spectacular house and a race ahead full of opportunities that will lead to success. One day, he met a little one who will change his whole life, his daughter. Peyton is the product of an affair that Joe had with a dead girl, but he did not know it until she arrives at the door of his house with the news. From that moment, Joe's life took an unexpected turn, full of frustrating, beautiful and funny moments that Joe is not willing to change for anything.
Journey 2: The Misterious Island
Sean's new stepfather, Hank, helps him make a map they found hidden in three sheets of three books that all three apparently talk about the same island and Hank decides to take Sean thinking that the message was sent by his grandfather. Together with Gabato, the only helicopter pilot willing to take the risk of the trip, and the beautiful and determined daughter of Gabato, Kailani, they leave looking for the island, rescue their only human inhabitant and escape before the seismic forces submerge under the waters, burying their treasures forever.
"Success is not always about "greatness". It is about constancy. Hard and constant work will lead you to success. The greatness will come

"

Dwayne Johnson
---
WHAT DO YOU SAY?
WHICH OF THESE MOVIES BY DWAYNE JOHNSON DO LIKES MORE... WHICH IS YOUR FAVORITE?
WHAT ANOTHER MOVIE OF THE ROCK YOU KNOW?
LEAVE YOUR COMMENT



I THINK HIS SHOWING FRIENDSHIP AND LOYALTY IN EACH OF HIS MOVIES.  I ADMIRE




THE WAY HE INVOLVES HIS STRONG BODY APPEAREANCE WITH THE CARENESS IN EACH 




ONE OF HIS WORKS WHEN CARES AND PROTECT THE PEOPLE AROUND HIM. THAT MAKES 




HIM A BETTER PERSON FOR THIS WORLD.